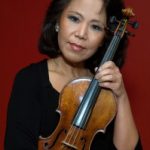 Violin
Christina Khimm Rosand has had a successful career as a pedagogue in the United States since 1989, when she began to teach at Queens College. Born in Seoul, Korea in 1953, she made her solo debut with the Seoul Philharmonic at the age of 10 and came to America in 1970 to study with Dorothy Delay at the Juilliard School. In 1971, she received a full scholarship to study with Raphael Bronstein at Manhattan School of Music, where she won the School's concerto competition as well as the Young Artist Competition in New York. To broaden her educational horizons, she moved to Sarah Lawrence College in 1973, where she continued to study with Dorothy Delay and earned a Bachelor of Arts degree. She continued her studies with legendary violinists Ruggiero Ricci and Aaron Rosand, who later became her husband. Acquiring a certificate to teach the Suzuki method in 1988, she has held positions at the Hoff-Barthelson Music School, Music Conservatory of Westchester, Manhattan School of Music, and Mannes College.
In addition to her work as a teacher, Ms. Khimm Rosand has enjoyed a varied career as a soloist and chamber musician. Her solo engagements elicited critical praise of her "insightful musicianship, legant tone, and technical mastery of her instrument." She was also a member of the Laurentian String Quartet for several years. Since 1994 she has served as the outreach director and as a faculty member of the annual Summit Music Festival.
In 1996, she and her husband, American violinist Aaron Rosand, founded the Aaron Rosand Intensive Program at the Summit Music Festival. She has two CDs available on the Sohn and Artkor labels, featuring works by Schnittke, Foote, Grieg, Vivaldi, and Mozart.
Manhattan School of Music Precollege faculty since 2001.